ViperStud® Drywall Framing System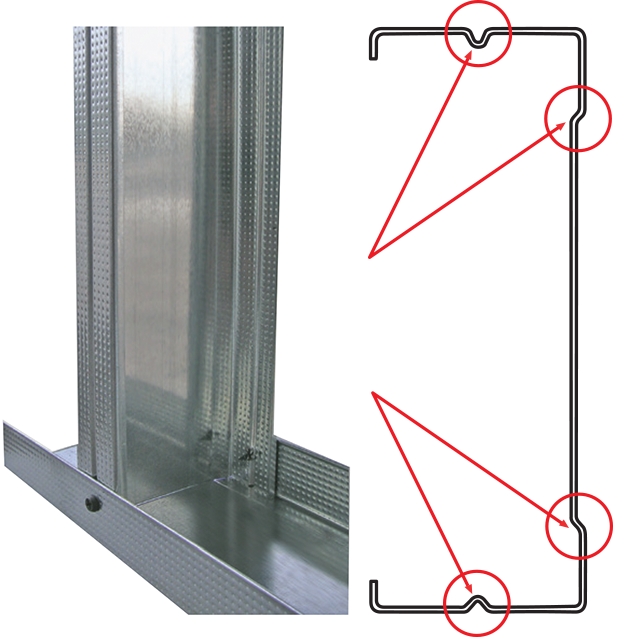 Get the ViperStud® Drywall Framing System advantage. TELLING® Industries manufactures all
ViperStud®
and
ViperTrack®
Framing System components in full compliance with IBC Building Code. TELLING also offers a full complement of traditional drywall framing and accessory products for use in interior non-load bearing applications. Our drywall framing is roll-formed premium grade steel, offering superior corrosion resistance and performance.

Installation of the viper stud drywall framing system is per engineered shop drawings or ICC-ESR-2620 and CCRR-0154 .
ViperStud is listed in the following:
NYC Department of Buildings MEA 56-08-M, MEA 56-08-M Vol 2, MEA 235-08-M
ViperStud Drywall Framing System is tested or conforms to these standards:
ASTM A1003Standard Specification for Steel
Sheet, Carbon, Metallic- and Nonmetallic-Coated for
Cold-Formed Framing Members
ASTM C645Standard Specification for Nonstructural
Steel Framing Members
ASTM C754Standard Specification for Installation
of Steel Framing Members to Receive Screw-Attached
Gypsum Panel Products
ASTM E90Standard Test Method for Laboratory
Measurement of Airborne Sound Transmission Loss
of Building Partitions and Elements
ASTM E119Standard Test Methods for Fire Tests
of Building construction and Materials. Fire rated for
1, 2, 3, and 4 hour rated walls.
ASTM E72Standard Test Methods of Conducting
Strength Tests of Panels for Building Construction
ASTM C1629Standard Classification for Abuse-
Resistant Non decorated Interior Gypsum Panel
Products and Fiber-Reinforced Cement Panels
Architectural Testing Approved& ICC ES Code Compliant
Viper25 & Viper20 manufactured by Telling® Industries
received an evaluation report (CCRR-0154) from ATI
Evaluation Services and an evaluation report (ESR# 2620)
from ICC Evaluation Service (ICC-ES), providing evidence
that the ViperStud Drywall Framing System meets code
requirements. Building officials, architects, contractors,
specifiers, designers and others utilize these Evaluation
Reports to provide a basis for using or approving metal
framing in construction projects following the International
Building Code.
LEED® v3 Information
Available LEED® points in the following categories:
MR Credit 2 - Construction Waste Management
(1-2 points)
MR Credit 4 Recycled Content
(1-2 points)
MR Credit 5 - Regional Materials
(1-2 points)
Recycled Content
Total Recycled Content: 48%
Post Consumer Content: 32%
Pre Consumer (Post Industrial) Content: 16%
The ViperStud® Framing System from TELLING is available in a variety of web sizes and gauges. Our interior stud & track, as well as our angles, are knurled on the flanges. This knurling offers speedy metal-to-metal and sheeting attachments and helps prevent screws riding or walking. We also have the ability to provide custom lengths, special packaging and markings upon request. Whatever the application, TELLING and ViperStud® have the right framing for the job.